I added a post yesterday about Vertex but I just came across some very exciting graphs!
These were released today at the European CF Conference.
The first graph shows the effect of Lumacaftor (VX809) and Ivacaftor (Kalydeco) plus a new second generation corrector. This is the first time we have seen data with the second generation correctors and heterozygotes (people with one copy of F508del).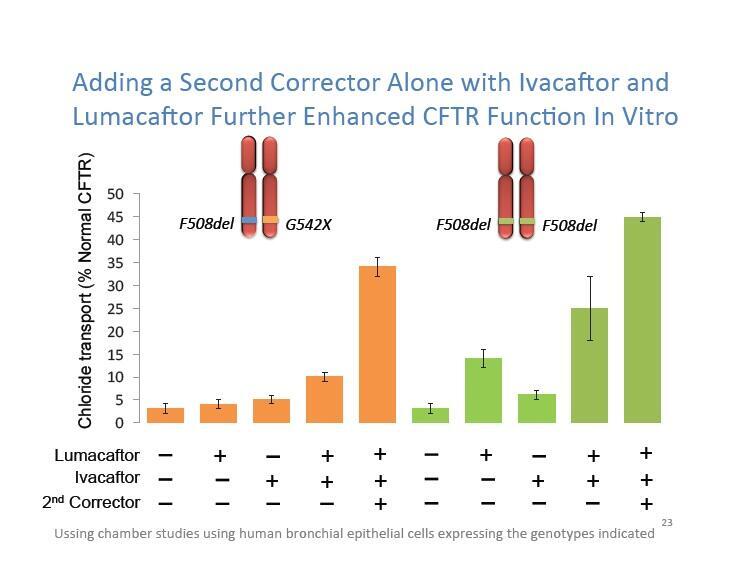 This shows that with VX809 and Kalydeco that heterozygotes reach about 10% of normal function and homozygotes (2 copies F508del) reach about 25% of normal function. When the second generation corrector is added, heterozygotes increase to about 33% and homozygotes reach about 45%.
There is also a second graph that shows the effect of adding Lumacaftor to Ivacaftor with people who have G551D and F508del. The increase is much greater than I expected, improving from 50% to 80%! Carriers are at about 90% so this is very close to normal levels of CFTR function. I can only imagine what would happen if a second generation corrector was added as well! It is highly possible that other F508del heterozygotes who have a second mutation that is likely to be helped by Kalydeco (other gating, residual function, R117H) may also improve significantly when Lumacaftor is added.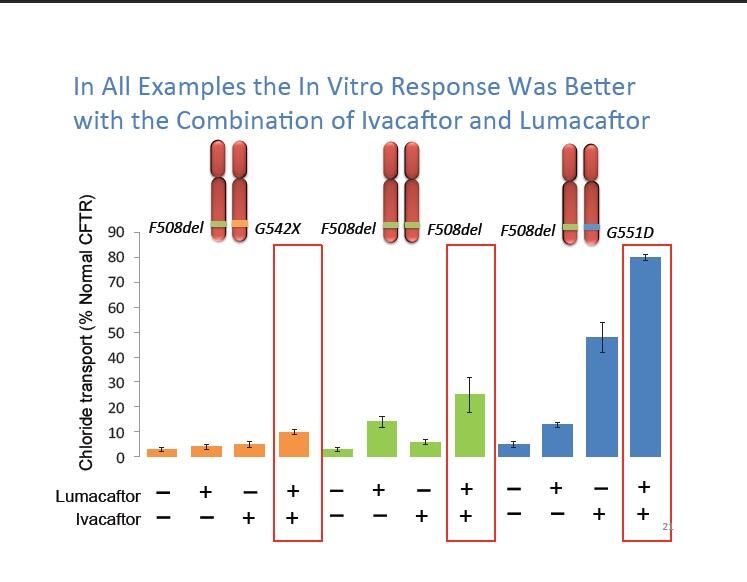 I've added two more old images to put the percentages in to perspective:
The last two images are from the Vertex Investor Presentation in Oct 2012.